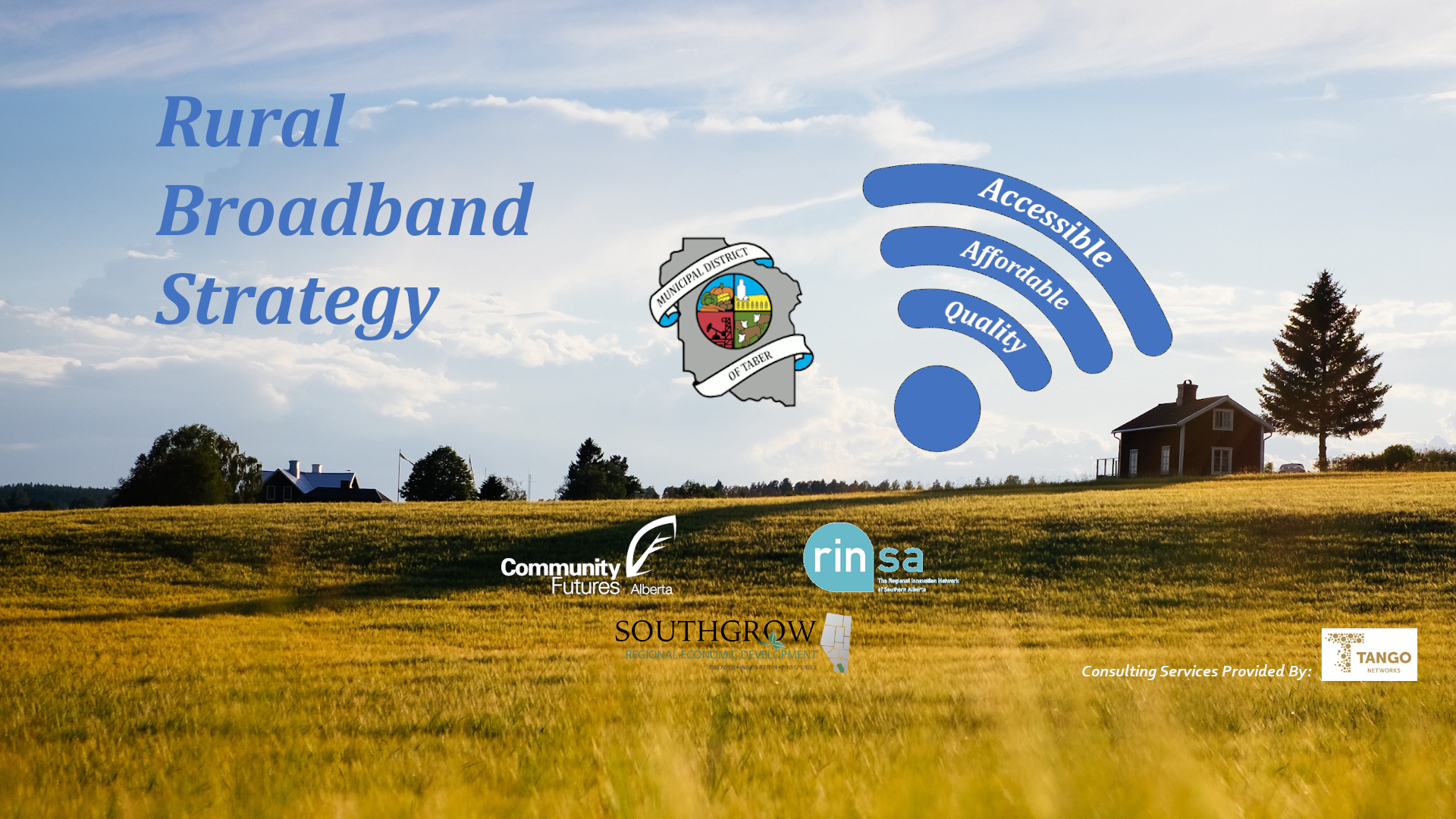 In developing a Rural Broadband Strategy in the MD of Taber the ultimate objective is to promote the accessibility, quality and affordability of rural broadband high-speed data.
Rural broadband accessibility
High-speed rural broadband data will extend to most if not all MD of Taber ratepayers.
Rural broadband affordability
The MD of Taber is considering an investment in broadband infrastructure and needs to confirm that this investment is justified by the broadband project to not only provide high speed to ratepayers but also to offer them affordable residential rates.
Rural broadband quality
As recently as 6 years ago, 5MB download and 1MB upload for broadband were considered acceptable data speeds in Canada. Now, acceptable data speeds are 50Mbps download and 10Mbps upload.
It is expected that last-mile service objectives should meet a round-trip latency threshold of 50 milliseconds and a packet loss threshold of 0.25%, both measured during peak times.
The ratio of dwellings served to data connection with the assurance of downlink and uplink speeds should be 8 or 12 :1.
As part of the Rural Broadband Strategy, the following has been researched and developed:
Current State of Rural Broadband Infrastructure
Existing Internet Service Providers (ISP)
Existing Data Plans and Coverage
Municipal Rural Broadband Objectives
Industry Connections and Information Exchange
Service Coverage Gaps Based on Current Infrastructure
Possible Funding Opportunities
The MD of Taber will be considering a number of private and public partnerships for grant applications to increase the footprint of rural high-speed data through local broadband projects.
It is expected the partnerships would support increased Transport, Intermediate Mile, and/or Last Mile broadband infrastructure in the MD of Taber and area.
Rural Broadband High-Speed Data remains a strategic priority for the municipality as it continues to be a critical service that is heavily relied upon by many of our residents and business community.
RMA speed testing summary report available
Highspeed rural internet is critical for economic development, engaging in the digital economy, and working and learning from home. The Government of Canada announced the goal of providing access to 50 Mbps download and 10 Mbps upload speeds to all Canadians by 2030.
The RMA, in partnership with CIRA, has concluded the internet speed testing project, which ran for two years to collect internet speed data in RMA member municipalities. Over this period, more than 35,000 tests were run in rural municipalities, and this would not have been possible without the support of our members. To inform members and other stakeholders of the results of the speed testing project, the RMA has prepared a summary report. Thank you to all who participated.