If you are in the business of food - you should be here!
Canada's Premier Food Corridor is a consortium of Economic Development professionals working to advance the agri-food sector in southern Alberta, Canada through investment attraction and advocacy for the agri-food industry.
The Municipal District of Taber is a proud member of the CPFD. Recognized as a hub for food processing, many global food companies are already located in the region. The existing logistics and transportation supply chains have led to a growing number of niche innovators choosing to build their businesses here. Industry associations, research institutions and Economic Development Organizations are here to provide support.
Learn how southern Alberta is feeding the World and why you should be here. Visit website.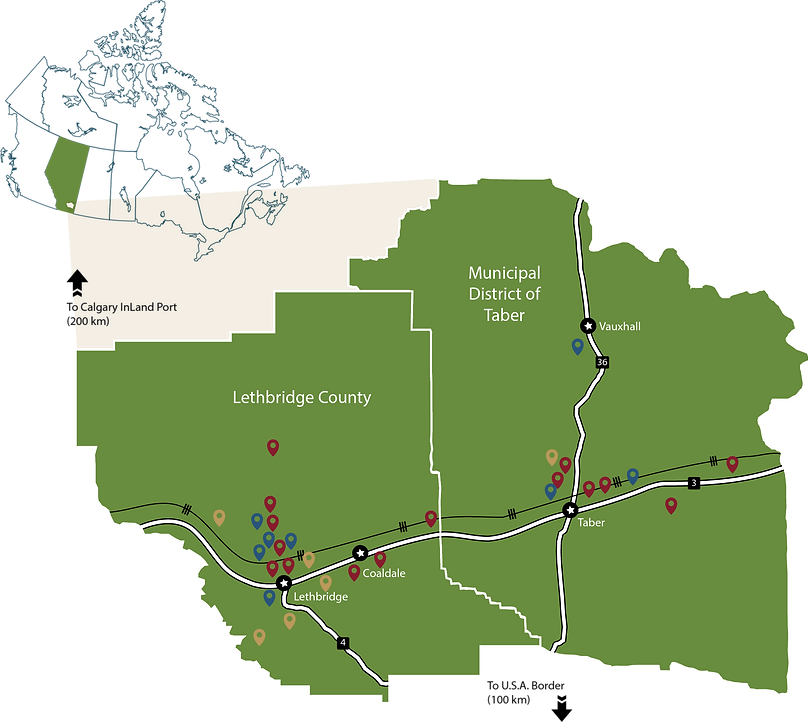 Key Processors and Niche Innovators
•
Click to expand




Agropur Cheese

Baking Barn

Black Velvet Distillery

Broxburn Farms Ltd.

Broxburn Vegetables

Busy Bea's Market Garden

Cavendish Farms

CR Fruit Farms

Crystal Springs Cheese

Dutch Grill

EPIC

Ewe-nique Lamb

Fairwinds Farms

Farmers Own

Gouw Quality Onions

L.A. Grain Ltd.

Lantic Inc.

Lamb Weston

Leffers Brothers Vegetables

Lethbridge Meats & Seafood

Let's Pasta Food Services

Lucco Farms Mustard

Mans Greenhouse

Maple Leaf Products

McCain's

Noble Meadows Farms

Nutrosciece Inc.

Parmalat

PepsiCo

P & H Milling

Prairie Gold Produce

Prairie Hill Fruits

Prairie Meats Ltd.

Quattro Ventures

Richardson Oilseed

Rowland Farms

Sakai Spice

Sunrise Berry Farms

Sunrise Poultry

Sweet Grass Bison

Tamminga Farms

Urban Micros

Whole Leaf Products
Supply Chain and Infrastructure
•
Click to expand




AgValue Brokers

Bayer Crop Science

Canary Biofuels

Cargill

C.B. Constantini Commodities

Chinook Carriers (Taber)

Chin Ridge Seeds Ltd.

Columbia Seed Co Ltd.

Corteva AgriScience

Federated Coop Limited

Flexahopper Plastics

Grow-TEC

iHaul Freight Ltd. (Lethbridge)

Independent Crop Inputs Inc. (Barnwell)

Landmark Feeds

Lethbridge Biolabs

Master Feeds

Monsanto-Dekalb

Ring Container

Taber Seed Cleaning Cooperative Association (Taber / Grassy Lake)

Transmark

Versa Cold

Viterra
Research Partners and Education
•
Click to expand




Animal Disease Research Institute

Blue Sky Spectroscopy

Farmers Edge

Farming Smarter

Lethbridge College - Integrated Agricultural Technology Centre

Lethbridge R&D Centre

University of Lethbridge