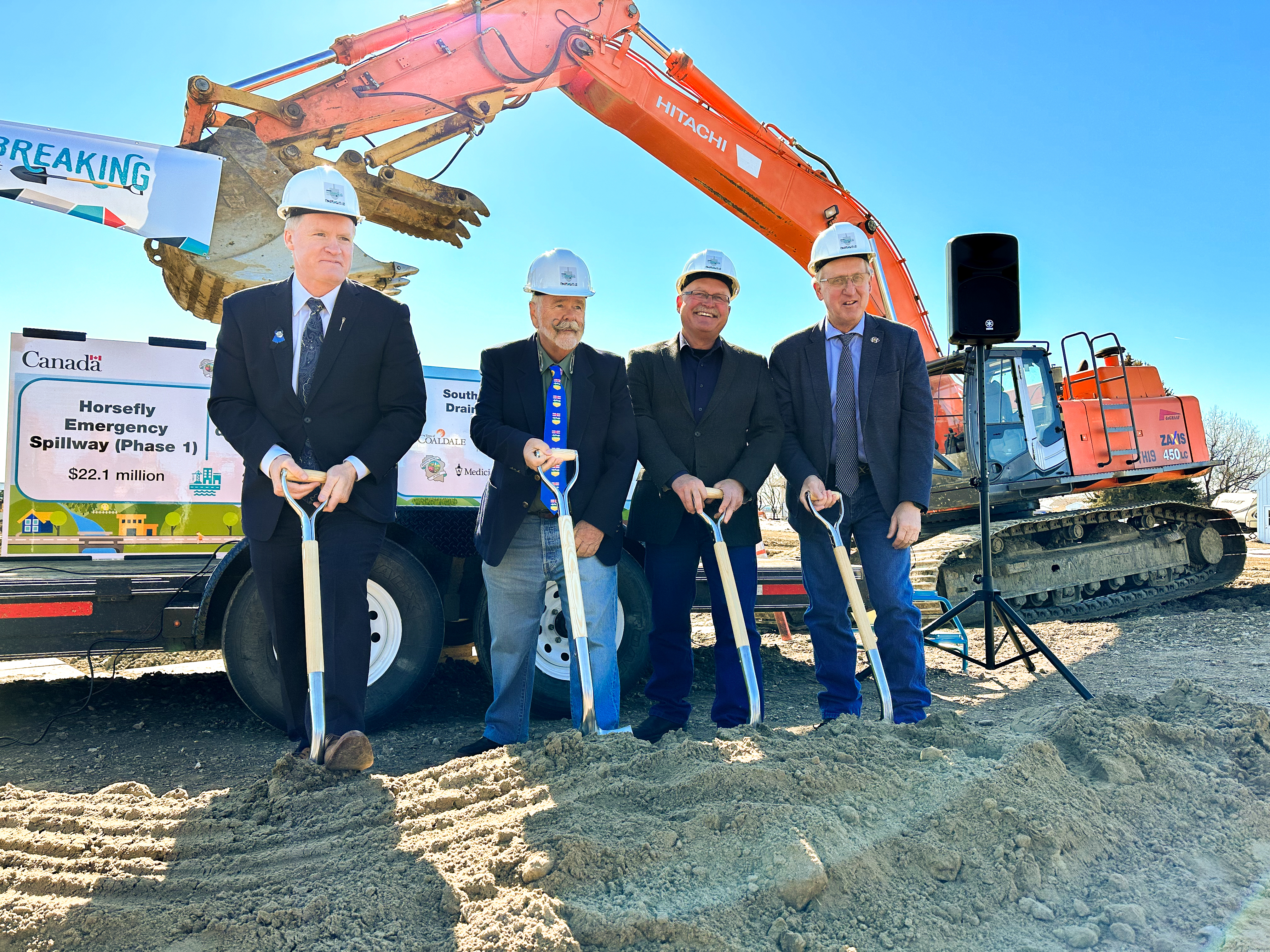 For Immediate Release
March 17, 2023
TABER AB – Today the Municipal District of Taber (MDT) and members of the Southern Regional Stormwater Drainage Committee (SRSDC), in conjunction with the governments of Canada and Alberta, took another important step forward for flood mitigation in southern Alberta by breaking ground on the Phase 1 expansion of the Horsefly Regional Emergency Spillway project, one of the most ambitious construction projects in the immediate region's history.
SRSDC's Co-Chair Reeve Merrill Harris and Co-Chair Gary Franz joined Member of Parliament M­­artin Shields and Member of the Legislative Assembly Grant Hunter for this milestone.
In early December, excavation started on a 5.6-kilometre-long irrigation channel, from the Taber Lake Reservoir to the Oldman River. Phase 1 is scheduled for completion in the summer of 2024, with Phases 2 and 3 construction beginning in 2024. Once developed, this will increase the drainage capacity of the existing spillway from approximately 7.6 m3/s to 47 m3/s.
Lethbridge-based De Graff Excavation Ltd will implement Phase 1, with MPE Engineering and Stantec Consulting as engineering consultants.
Since 2010, areas across southern Alberta have experienced severe flood events resulting in millions of dollars in widespread property, farmland, and infrastructure damage, which forced several residents to evacuate their homes.
In 2020, all three governments announced $47 million in shared funding for the expansion of the Horsefly Regional Emergency Spillway project.
Once operational, the long-term economic impact of these infrastructure upgrades will make rural communities more resilient to flooding and protect critical water infrastructure, while at the same time providing the necessary groundwork to attract further investment in the agri-food processing industry for a brighter future for all southern Albertans.
Learn more about the project: mdtaber.ab.ca/p/horsefly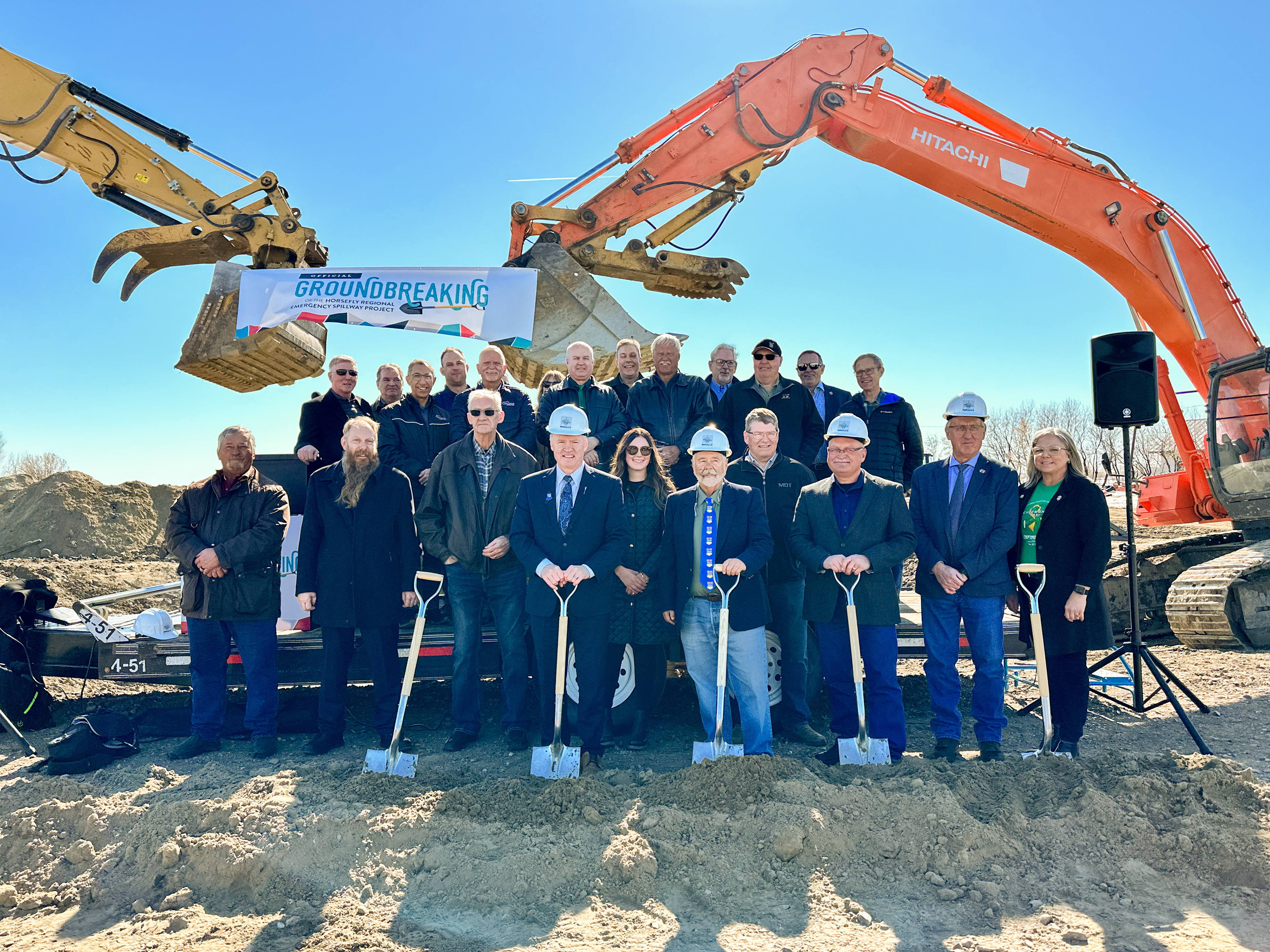 Quotes
"Today's announcement represents more than infrastructure. It is our government's commitment to building resilient rural communities in Alberta and across the country. Our investment will make a difference in the day to day lives of Taber residents by better protecting them, and nearby communities, from the risks of flooding. We will continue to work with our partners and all orders of government as we move towards a climate resilient future for Albertans, and all Canadians."
~ The Honourable Randy Boissonnault, Minister of Tourism and Associate Minister of Finance, on behalf of the Honourable Dominic LeBlanc, Minister of Intergovernmental Affairs, Infrastructure and Communities
"Investing in infrastructure projects that build resilient communities while strengthening the economy is critical. I am thrilled that multiple levels of investment were secured to ensure that construction on the Horsefly Regional Emergency Spillway Project can begin. Alberta's government will continue to advocate and leverage investment opportunities that provide Albertans with the infrastructure they need and that protects their communities, while creating jobs and economic growth."
~ The Honourable Nathan Neudorf, ECA, Minister of Infrastructure
"This project is yet another example of the significant investment made in flood mitigation since the 2013 southern Alberta floods. When complete, the Horsefly Regional Emergency Spillway project will greatly improve stormwater management and reduce the flood vulnerability of communities throughout the region."
~ The Honourable Sonya Savage, Minister of Environment and Protected Areas
"I appreciate the hard work over the last few years to create a strategic partnership between affected municipalities and irrigation districts. This project will achieve action by protecting the agricultural irrigation economy of these partners, the infrastructure and quality of municipal water services, and the individuals' homes and property."
~ Martin Shields, Member of Parliament for Bow River
"The Horsefly Spillway resiliency project will provide much needed protection for the residents, businesses, and irrigators of southern Alberta. With expanded irrigation and infrastructure investment coming from our government, now is the time to protect this vital infrastructure."
~ The Honourable Grant Hunter, Member of the Legislative Assembly Taber-Warner
"I'm excited to welcome our federal, provincial and municipal partners along with members of the public on this important project to help make residents more resilient to flooding. On behalf of the Southern Regional Stormwater Drainage Committee and the Municipal District of Taber, I am looking forward to working with the Government of Canada, the Province of Alberta and all our municipal partners in the upcoming construction."
~ Merrill Harris, Reeve of the Municipal District of Taber and Co-Chair of the Southern Regional Stormwater Drainage Committee
"We take great pride in our efforts and accomplishments of the past 12 years. The main canal of the St. Mary River Irrigation District is integral to all of southern Alberta, and the expansion on this emergency spillway is a great demonstration of regional cooperation."
~ Gary Franz Co-Chair of the Southern Regional Stormwater Drainage Committee